Since the pandemic, there has been a deep and systemic issue within the fabric within the modern workforce. The convergence of long hours, pervasive connectivity blurring the lines between work and home, and the psychological toll of navigating the uncertainties of a rapidly changing work environment are creating an unprecedented crisis of engagement and burnout.
According to a Gallup report, 77% of employees worldwide are not engaged or are actively disengaged at work, leading to approximately $8.8 trillion lost due to low engagement. Furthermore, a study by Aflac found that 59% of all workers are feeling burned out, with a worrying uptick on par with levels reported during the height of the pandemic. 
How to Reverse Trends and Create a Thriving Workplace Culture
It doesn't have to be this way. Strategic employee recognition and engagement initiatives have proven to be effective solutions in mitigating burnout and disengagement all while driving the overall performance and success of an organization.
A study by Society for Human Resource Management (SHRM) revealed that companies with strategic recognition programs exhibit a 29% decrease in turnover. Furthermore, organizations with employee recognition solutions have 14% better employee engagement, productivity, and customer service than those without. 
Lastly, the implementation of engagement solutions is not just a feel-good measure; it's a bottom-line imperative. Disengaged employees cost organizations between $450 and $550 billion annually. Additionally, units within companies that score in the top quartile of employee engagement see 21% higher profitability.
 
The Only Platform You Need to Create an Engaged and Happy Workforce
Connects empowers employees to create connections, increasing happiness and engagement. When employees feel valued and belong, they are happier, more productive and loyal. 
Connects makes it easy for you to implement a seamless and effective employee engagement and recognition solution that drives real results.
Inspire your teams and increase employee engagement and productivity with an employee incentive reward program tailored to your organization's needs.
Celebrate employee accomplishments and acknowledge milestones with an intuitive points-based system that can be easily redeemed for merchandise, experiences, and more.  
Enhance workplace culture by encouraging social recognition that is aligned to your company mission and core values.
Create a culture of appreciation through non-monetary social recognition and keep employees up to date with company news and happenings.
Improve retention and employee loyalty by celebrating employee milestones with budget-aligned recognition & reward programs. 
Create memorable, lasting experiences for your employees on the days that matter most with a branded, personalized digital experience and diverse rewards.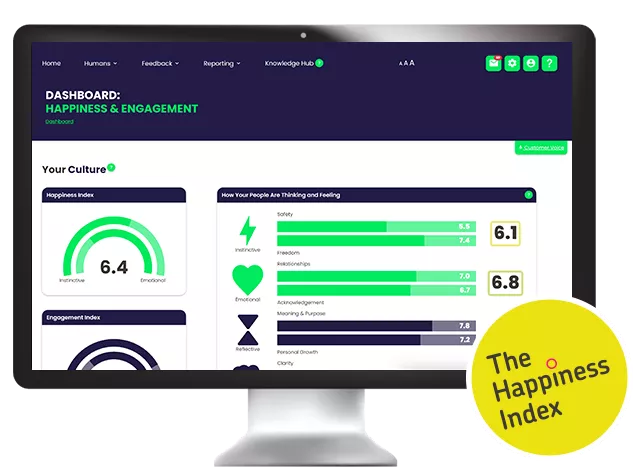 The Happiness Index
Inspirus has partnered with The Happiness Index  (THI) to offer organizations an employee experience management platform that delivers a pioneering combination of employee recognition, engagement, and happiness. By delving into neuroscience, employee surveys and dashboards, Inspirus and THI take a holistic view to focus on both the head (engagement) and the heart (happiness) to offer a comprehensive understanding of your organization's cultural health. This helps organizations collect both quantitative and qualitative data to ensure they foster a sense of belonging, happiness, and ultimately, improved employee engagement that yields tangible business results.
Discover how you can create a culture that empowers your employees.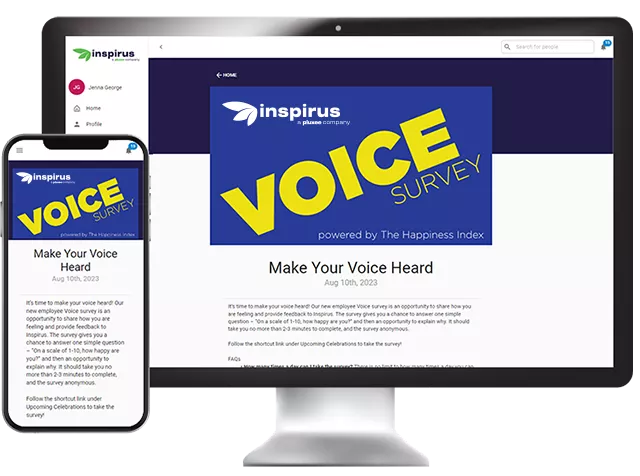 Connects delivers the critical insights and data needed to create the thriving culture that drives success
Gathers feedback
Monitors sentiment
Provides insight
Measures impact
Inspirus Connects integrates employee feedback survey tools developed and powered by human insight partner, The Happiness Index. Employee Voice measures employee happiness and engagement, a leading indicator of cultural health, by empowering employees to share their feedback anonymously, 24/7. The survey asks two simple questions: "How are you feeling today?" and "Why," giving every employee the opportunity to be heard. The survey results provide organizations with real-time insight into how employees are thinking and feeling so they can adjust their people strategy and make actionable plans to improve employee engagement, decrease turnover and more.
 
Build Community by Improving Your Employee Experience
One employee engagement platform that connects all employees and delivers impressive performance results.
Fosters community
 Promotes values
Communicates purpose
Increases engagement
Boosts morale
Improves satisfaction
Elevates culture
Inspirus Connects improves the employee experience by tapping into the powerful motivators of connection and belonging. Our technology-enabled solutions connect employees to their colleagues, senior leaders and company culture. The Inspirus Connects Platform provides a central location where all your people can interact, collaborate, celebrate each other, learn new things and stay up to date on company news and initiatives — activities that create better experiences for each employee and better business outcomes for the company.
Make Your Company a Great Place to Work
RECOGNIZE: Create employee recognition moments that matter for individuals or teams, and achieve your organizational goals using peer-to-peer recognition, service recognition, and instant reward options.
CELEBRATE: Celebrate with purpose! Create a personalized employee experience for every member of your multigenerational workforce. Build on the excitement of service anniversaries and milestones, birthdays and important life events.
CONNECT: Build team culture and reduce employee turnover by creating a community that inspires a sense of belonging and purpose. Encourage employees to connect with one another and express themselves through social interaction using likes, comments and emoji's.
FEEDBACK: Provide employees the freedom to give real-time, anonymous feedback 24/7, so they feel heard and valued. Companies can see, in the moment, how their employees are thinking, feeling and behaving so they can address trends before they become widespread organizational issues. 
REWARD: Target and reinforce specific behaviors with rewards through a points-based employee appreciation program where employees can accumulate points to spend on rewards from hundreds of brands they know and trust.
REPORTING: Drive continuous improvement of your employee rewards and recognition program with real-time data that transforms the way you manage, recognize and celebrate your employees. Use that data to measure your ROI by linking employee performance back to your employee engagement activities.
 
Employees who feel a sense of belonging are 3.5 times more productive and motivated to contribute to their full potential.
Elevate your employees' experience with Inspirus Connects Plus to provide valuable engagement and best-in-class recognition.